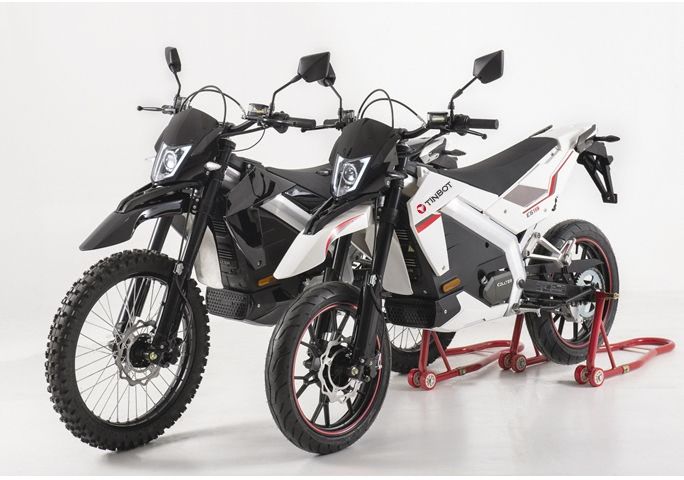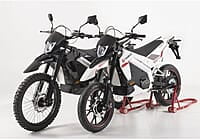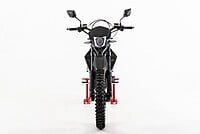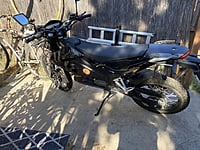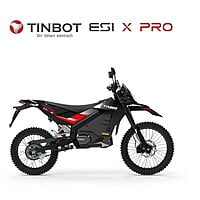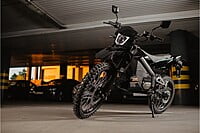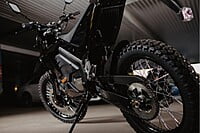 ES-X Dual Battery, Dual Sport DOT Approved Electric Motorcycle by Tinbot
We're excited to welcome the Tinbot to our lineup! Thanks to our newest agreement we have 2 of these ready for sale, here in the USA, ready to ship to you!
This is the Tinbot, NON-Kollter Version, which means it has the same design, but uses more standard parts. A great example of this is the use of the Kelly APT72400 instead of a proprietary one. Lots of help there on programming that bad boy! These still have the 72v 32AH Dual LG battery packs to give you a full 64AH of range. Of course, how you use it will really dictate how far you can go on a charge. The peak 10kw mid-drive motor gives you 13.3hp when you need it and cruises at about 7hp. Either way, you get 220nm or 161ftlbs to the rear wheel of this DOT Approved, street legal ride.
If you've seen our videos, you know we enjoyed these rides. With the Kelly controller we expect these to get closer to their full potential. Weight is more the determining factor here. Close to 290lbs curb weight with both batteries means you might not feel the acceleration immediately, but once you get to speed, you'll feel how it grips the road.
For all e-Enduros and e-Motorcycles and for some of our higher end E-bikes, these items are normally built to order.
VMX10000, Tinbot ES-X
Battery
Samsung Lithium battery
72V/32Ah x2 (comes with two batteries)
Management system
Intelligence BMS
Motor 5000W, Maximum power: 10000W
Torque 220N.M
Max output current 100A
Performance (Factory Setting)
Max. Speed 100KM/H(Maximum)
Distance Range 65-75KM @45KM/H (130KM-150KM with two batteries)
Climbing Capacity ≥42°
Front rim
2.50-17 Aluminum alloy wheel (with road tire)
J21*1.6 Aluminum alloy outer ring with wire wheel (with off-road tire)
Rear Tyre
120/70-17(Road tire)
4.10-18(off-road tire optional)
Brakes
Fr.240mm Disc brake(double cylinder)/ Re. 210mm Disc brake(single cylinder)
Front Shock Absorber
Hydraulic (37mm inverted hydraulic shock Absorber adjustable spring preload)
Rear Shock Absorber
Hydraulic (Medium hydraulic shock Absorber adjustable rebound damping)
Controller FOC
Display LCD
Max loading capability 220KG
Keyless Start
Charge current 5A
Wheelbase 1470mm
Seat height 880mm
Ground clearance 320mm
Net weight 110kg
Dimensions 2085*860*1160mm
Color White, black, red (Can be customized)