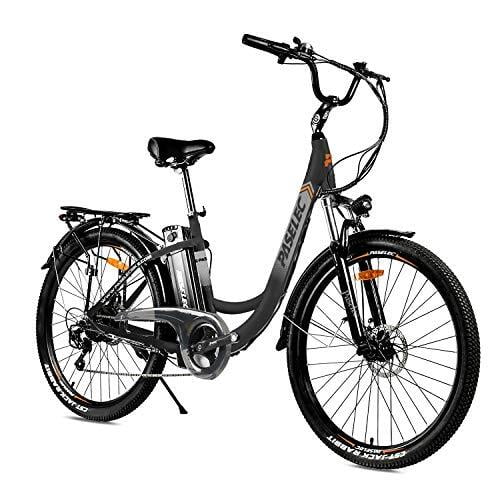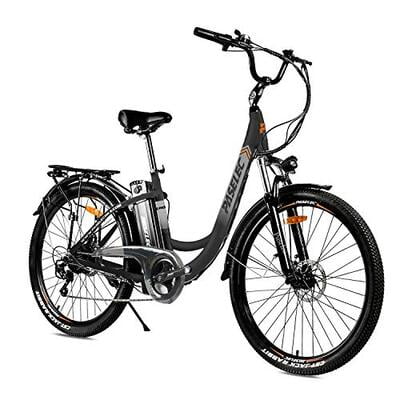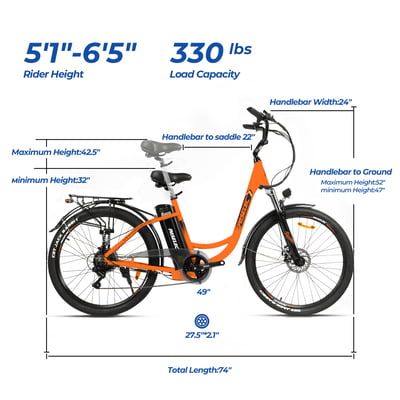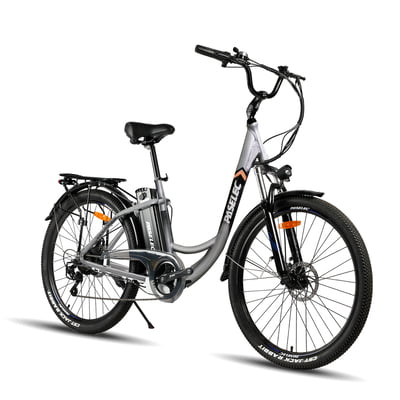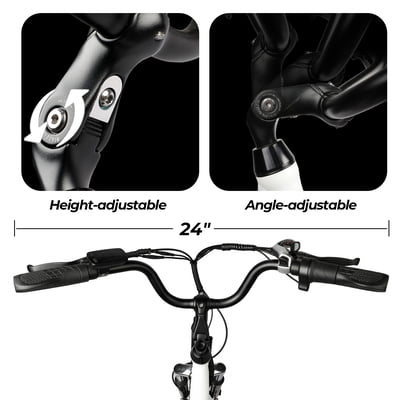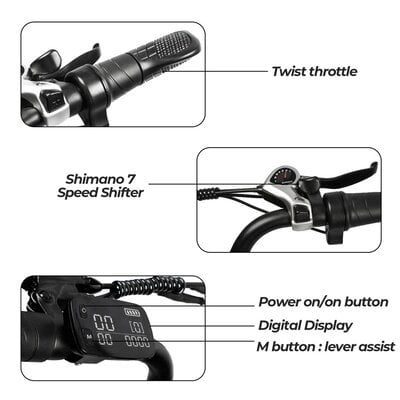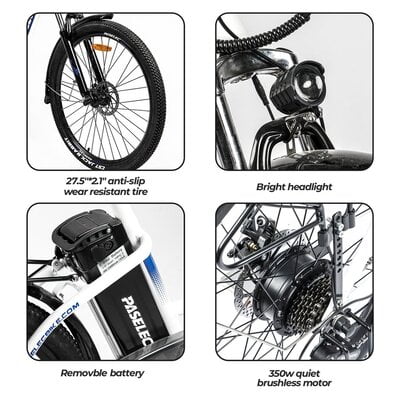 Paselec PC1 Step Thru City Bike
This electric city bike features a 27.5 inch fat tire and weighs 25kg (55lbs). It features front suspension for maximum comfort. The 350W brushless gear motor and battery with a massive 48V 15Ah capacity powers the bike up to 60 miles in pedal assist mode. The battery is removable so you can easily extend your range with a second battery.
With a top speed of 28mph you'll be sure to leave everyone else behind. It comfortably fits riders with different heights 5'1" - 6'5".
With a 7-speed Shimano derailleur, you can pedal along with or without electric assistance. This is a perfect urban ride!
We shopped the rest so you don't have to. Other Ebikes at this price come with inferior power systems. Here's what makes the PC1 better:
1) Aluminum frame, most ebikes at this price use Steel. Steel will rust and is heavier giving you less range per charge.
2) Ebikes at this price range usually come with a 350w max motor. The PC1 comes with a 350w normal, 500w burstable motor to help get you out of any situation safely.
3) Other Ebikes say they have a "large capacity" battery pack. But it's only 10AH! The PC1 comes with a 48v 15AH battery pack. That's 50% more battery for the same price! That's a Large Capacity battery. Go 50% farther than those other ebikes. Charge less often.
4) Our PC1 comes with a 48v system, while most others are 36v. That means you'll get a higher top speed, 22+mph vs. avg 20mph and more torque to get you up the hills with ease.
5) You get us, we're here when you call, we respond to our emails and very soon, we'll have a Request Ticketing system so you can make a request and know you've got a spot in line.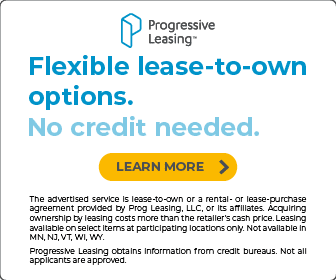 Features
Low step frame design
This low step frame allows for easy mount and dismount without having to lift your leg over the saddle
E-PAS Technology: Regenerative/Recharge Battery System
Battery regenerates with speed greater than 15MPH at PAS 0/1 or when going downhill without energy consumption
350W (Peak power 500W) Brushless Motor Maximum Speed 24MPH (39KPH)
Hidden in the 27-inch rear wheel is the 350W brushless gear motor, which boasts greater torque for climbing slopes with lower energy consumption.
Battery 48V 15Ah Lithium Battery, Up To 62miles (100km) Range
The PASELEC 6 has a 48V 15Ah removable battery which allows for longer distance to be traveled and is convenient to replace the battery. 15AH lithium battery allows 35-45miles (56-72km) range in pure electric mode, up to 62miles (100km) range in pedal assist mode.
Front Suspension
Aluminum alloy front suspension with 100mm travel and provides maximum comfort on and off road. Most other Ebikes in this price range have a solid fork. That can be hard on bumpy roads.
LCD Display
LCD display provides power, speed, mileage, PAS level, trip distance and odometer
Shimano 7 Speed Shifter and Freewheel
High quality Shimano 7 speed shifter and freewheel with a derailleur guard
Front and Rear Mechanical Disc Brakes
Responsive braking power with 160mm rotors
27.5x2 Inch E-Bike Tires
Inflatable Rubber CTS/Chaoyang Professional E-bike Tires. Non-Fat Tire Means More Miles Per Charge

Weight including battery 55lbs (25KG), Max Load 330lbs (150kg)
The main body is made of high-strength aluminum alloy, light, no rust.

Adjustable Saddle Height
Adjustable saddle height 32"-42" (70cm - 117cm)
Recommended rider height 5'1" - 6'5" (1.55m - 1.91m)

Ultra-bright Headlights
Features an ultra-bright headlight for added safety in night riding.

FCC & CE Certification
PASELEC limited warranty

1 Year Parts on Battery and Motor
3 Year Parts on Frame
Compare to other options in this category: