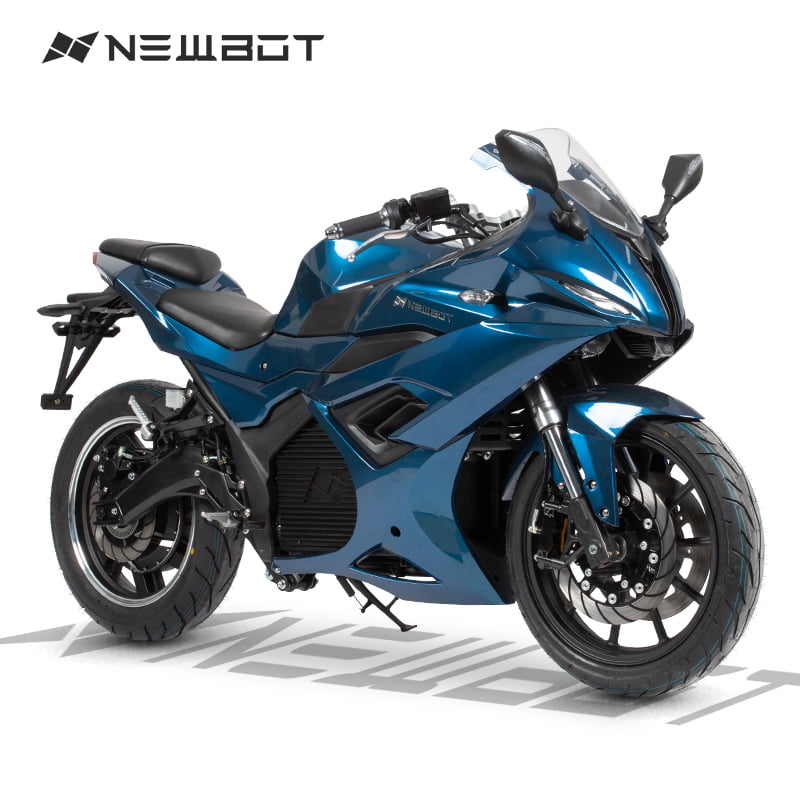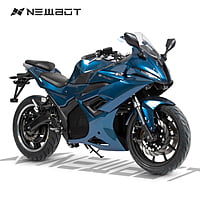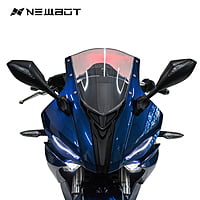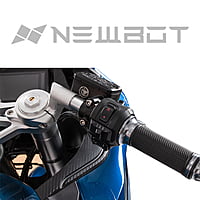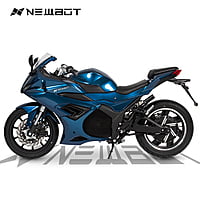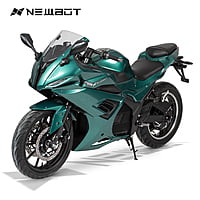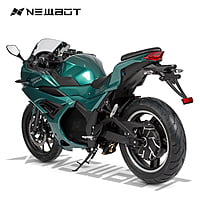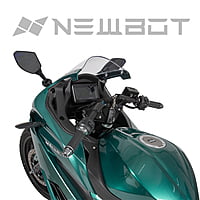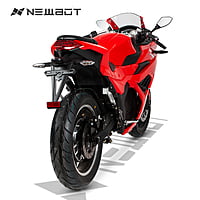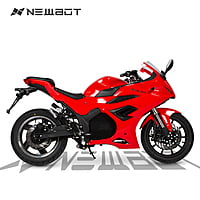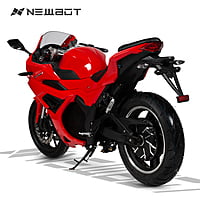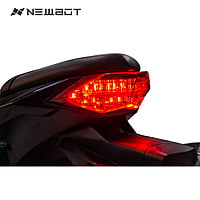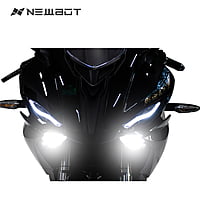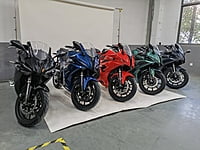 Storm Street Fighter DOT Approved by Newbot
*It's time to place your pre-orders! We've been authorized to offer special Pre-Order Pricing now thru April! You're Newbot Storm will arrive end of July-Beginning of August*
The Newbot Storm! These are the Street Fighter, racing style electric motorcycles you've been looking for.

Even though these won't be here till August, we will also be doing our usual disassembly and review once the units come in. We've been in contact with the Team at Newbot and they have a lot of passion around building a high quality, high performing electric motorcycle you can be excited to have in your garage.
All three models are available for Order.
Newbot has done its homework in putting the Storm together.
The plastic parts are thick, with smooth rounded edges, no accidentally cutting yourself on poorly trimmed pieces. Those parts are also painted 360 degrees with 6 layers of paint.
The Chassis has gone through a 300,000 times strict vibration test to check for any deformation or cracks and passes every time.
All of the Technical Parameters have been tested and retested for verification
All Units pass a strict 3-Stage set of QA inspections:


And then it gets to us and is tested all over again! By the time it gets to you, we'd be amazed if a defect got through.
Don't worry, the main motorcycle and electrical components get a 2 year warranty and the battery or "PowerPack" as it's called, gets a 3 year one with unlimited mileage!
Below is a chart of the models and pricing along with some initial specs to drool over. More info as it becomes available....
For all e-Enduros and e-Motorcycles and for some of our higher end E-bikes, since these items are normally built to order we have the following pricing stages:
Pre-Orders
We've been authorized by Newbot to provide you with a one time discount on the Pre-order of a Newbot Storm. Discounts are already applied to the prices! No fancy codes, no hoops to jump thru, just straight forward pricing:
Newbot E - Retail: $6,199 - $1100 pre-order discount = $5099
Newbot Base - Retail: $7799 - $1400 pre-order discount = $6399
Newbot S - Retail: $10,999 - $2000 pre-order discount = $8,999
Need Financing? Try LightStream
| | | | |
| --- | --- | --- | --- |
| Model | Storm E | Storm | Storm S $2000 off Pre-orders! |
| | | | |
| | Technical | Specifications | |
| Top speed (max) | 100 km/h (62 mph) | 120 km/h (75 mph) | 150 km/h (93 mph) |
| Peak torque | 108 Nm | 118 Nm | 148 Nm |
| Max capacity | 3.6 kWh (72V52Ah) | 6.2 kWh (72V86Ah) | 7.2 kWh (72V102Ah) |
| Power pack warranty | 3 years/unlimited kms | 3 years/unlimited kms | 3 years/unlimited kms |
| | Range | | |
| City | 120 km (75 miles) | 180 km (112 miles) | 200 km (124 miles) |
| Highway, 80 km/h (50 mph) | 80 km (50 miles) | 120 km (75 miles) | 135 km (84 miles) |
| Highway, 113 km/h (70 mph) | / | 90 km | 100 km (62 miles) |
| Highway, 130 km/h (80 mph) | / | / | 85 km (53 miles) |
| | Motor | | |
| Peak torque | 108 Nm | 118 Nm | 148 Nm |
| Rated power | 3 kW | 5 kW | 8 kW |
| Peak power | 4 kW | 6 kW | 11 kW |
| Top speed (max) | 100 km/h (63 mph) | 120 km/h (75 mph) | 150 km/h (93 mph) |
| Top speed (sustained) | 80 km/h (50 mph) | 100 km/h (62 mph) | 130 km/h (81 mph) |
| Type | Brushless DC hub | Brushless DC hub | Brushless DC hub |
| Controller | Sine wave | Sine wave | Sine wave |
| | Power | System | |
| Max capacity | 3.6 kWh (72V52Ah) | 6.2 kWh (72V86Ah) | 7.2 kWh (72V102Ah) |
| Charger type | 10A charger | 10A charger | 18A car quick charger |
| Charge time (10A charger) | 5.5 hours | 9 hours | / |
| Charge time (18A car quick charger) | 3 hours | 5 hours | 6 hours |
| Input | Standard 110 V or 220 V | Standard 110 V or 220 V | Standard 110 V or 220 V |
| | Chassis / | Suspension / Brakes | |
| Front suspension | adjustable hydraulic | inverted adjustable hydraulic | inverted adjustable hydraulic |
| Rear suspension | adjustable hydraulic | inverted adjustable hydraulic | inverted adjustable hydraulic |
| Front suspension travel | 120 mm | 120 mm | 120 mm |
| Rear suspension travel | 45 mm | 45 mm | 45 mm |
| Front brakes | 3 piston caliper, 300 x 4 mm disc | 4 piston caliper, 300 x 4 mm disc | 4 piston caliper, 300 x 4 mm disc |
| Rear brakes | 2 piston caliper, 240 x 4 mm disc | single piston caliper, 240 x 4 mm disc | single piston caliper, 240 x 4 mm disc |
| Front tire | Kenda 110/70-17,SHMT | Kenda 110/70-17,SHMT | Kenda 110/70-17,SHMT |
| Rear tire | Kenda 150/70-17,SHMT | Kenda 150/70-17,SHMT | Kenda 150/70-17,SHMT |
| Front wheel | 3.00 x 17 | 3.00 x 17 | 3.00 x 17 |
| Rear wheel | 3.50 x 17 | 3.50 x 17 | 3.50 x 17 |
| ABS | Optional | Optional | Standard configuration |
| | Dimensions / Weight/ | Package/Loading | |
| Wheelbase | 1450 mm | 1450 mm | 1450 mm |
| Ground clearance | 150mm | 150mm | 150mm |
| Seat height | 820 mm | 820 mm | 820 mm |
| Pillion height | 1000 mm | 1000 mm | 1000 mm |
| Vehicle Size (L x W x H) | 2080 x 750 x 1160 mm | 2080 x 750 x 1160 mm | 2080 x 750 x 1160 mm |
| Rake | 26.2° | 26.2° | 26.2° |
| Curb weight | 150kg | 170kg | 175kg |
| Carrying capacity | 150kg | 150kg | 150kg |
| | | | |
| | Economy | | |
| Equivalent fuel economy (city) | 0.45 l/100 km | 0.48 l/100 km | 0.52 l/100 km |
| Equivalent fuel economy (highway) | 1.05 l/100 km | 1.13 l/100 km | 1.20 l/100 km |
| Typical cost to recharge | $0.40 | $0.68 | $0.81 |
| | Warranty | | |
| Standard motorcycle warranty | 2 years | 2 years | 2 years |
| Power pack warranty | 3 years/unlimited kms | 3 years/unlimited kms | 3 years/unlimited kms |