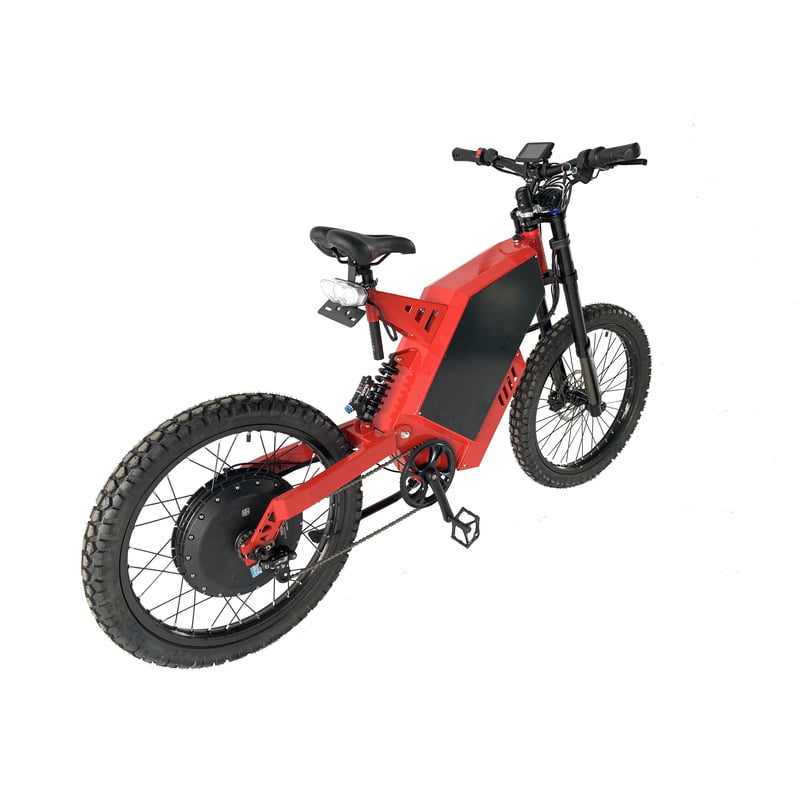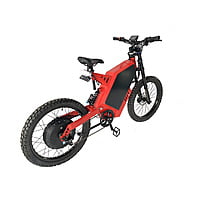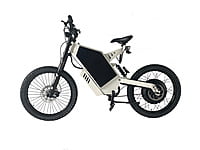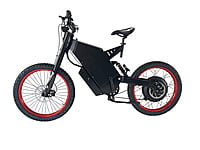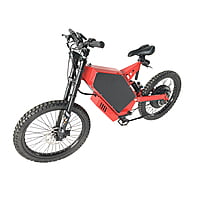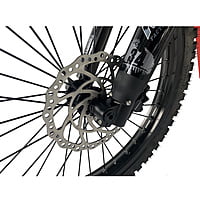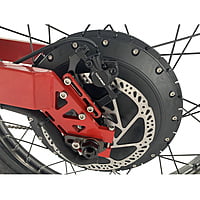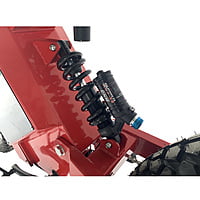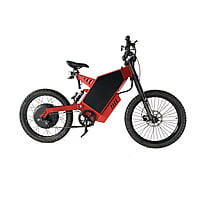 Arabian e-Enduro 3000w, 5000w, 8000w, 12000w, by E-Powersport
At first glance you might think the "Arabian" is no different than the "Thoroughbred". When you look closer you'll notice the differences. Subtle as they maybe, they will be noticed by the experienced rider. When you compare the two side by side, you'll notice the higher angle of the Arabian's body. This extra tilt and leaner design give the "Arabian" a balanced center of gravity with deeper and direct placement of the battery pack in the geometric center of the "Arabian".
Those subtle design changes are why the "Arabian" is our top rider, top performer, stylish and classy performers of our Enduro Line. With hub motors ranging in power from 3kw, 5kw, 8kw and 12kw you'll get plenty of torque and speed to get around. Taking it off road and opening it up you'll be able to get by the E-bikes on the trails and keep up with most of the motocross and trail motorcycles out there.
The "Arabian" comes in Black, White or Red frames with large side panels you can customize and make all your own. With the extensive list of upgrades available, you'll have no problem making the "Arabian" your personal and stylish steed. It's wider than the Thoroughbred, giving you more room inside the body for modifications, lighting and other fun.
E-powersport's e-Enduros ship to you fully assembled and ready to ride! We use a motorcycle shipper so we can get you your, Lil Burro, Thoroughbred or Arabian fully assembled and ready to hit the road or trails. These ship fully insured with $0 deductibles.
Shipping is a flat rate, $650 to anywhere in the lower 48. We're in Las Vegas, NV you live in Maine, $650 to your door assembled. Seattle, $650, New York, $650 to anywhere in the lower 48, fully assembled ready to ride $650 fully insured $0 deductible. *We do recommend charging it fully before riding as battery packs may not be fully charged when received.*
For all e-Enduros and e-Motorcycles and for some of our higher end E-bikes, these items are normally built to order.
All Arabian Enduro E-Bike Models come with the following Equipment Standard:
High Carbon Steel frame,

Front and Rear 203mm Hydraulic Disc Brakes
SW900 Mono-Chrome LCD display,

Bicycle seat,
Pedal Assist System
60A Controller

ZOOM DH680 Front Fork
26" x 2.6" Mountain Bike Tires
KS291 Adjustable Rear Shock
Est. Time to Charge with provided charger: 4-8 hours depending on Battery total Amp Hours
Est. Range per Charge: 40-60+ miles depending on driving conditions, weight of load, winds and hills
Est Top Speed: 3kw-40pmh
80A Controller

ZOOM DH680 Front Fork
26" x 2.6" Mountain Bike Tires
KS291 Adjustable Rear Shock
Est. Time to Charge with provided charger: 4-8 hours depending on Battery total Amp Hours
Est. Range per Charge: 40-60+ miles depending on driving conditions, weight of load, winds and hills
Est Top Speed: 5kw-50mph
Equipment on the 8KW and 12KW:
150A Controller

KKE Front Fork
19" Motorcycle Tires
DNM Rear Adjustable Shock
Est. Time to Charge with provided charger: 4-8 hours depending on Battery total Amp Hours
Est. Range per Charge: 40-60+ miles depending on driving conditions, weight of load, winds and hills
Est Top Speed: 8kw-60+mph, 12kw-70+mph